Welcome!
Promotional Products Tucson | Uniforms Tucson | Advertising Tucson | Tucson Promotional Products
Welcome to Arizona Imprintables. We are a full service promotional product and logo'd apparel company serving the Tucson area for over 10 years. We specialize in assisting our clients in selecting the best products for their needs and advising them in the most effective way to use them. Whether you need to build your business, enhance your brand, thank clients and vendors or just show your staff you appreciate them, the experts at Arizona Imprintables can get you the right stuff with your name on it.
Take some time to look through the over 800,000 items in our online catalog. Feel free to contact us for more information, a price quote, or just to discuss your marketing goals. We are here to help you.
Featured Item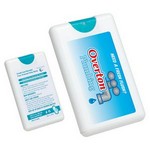 Credit Card Fresh Flush Pretreat Potty S...
Fresh Ocean scent odor eliminator spray. Environmentally friendly essential oils create a protective scent barrier on the surface of water to trap odor underneath. Pretreat toilet bowl with 2-3 spritz...
$1.75 - $1.95
Signature Showrooms